Yacht Details
Built by Lagoon
Guests 6
Crew 2
Year 2021
Description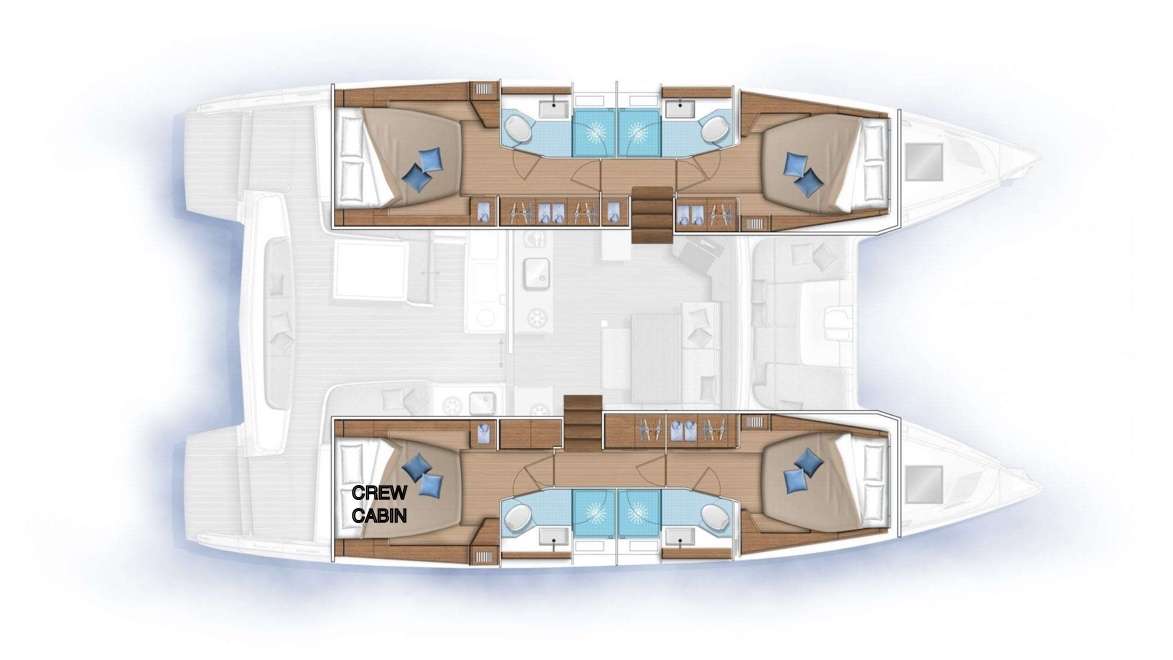 Boat Details
| | |
| --- | --- |
| Cabins: | 3 |
| Queen: | 3 |
| Single Cabins: | 1 |
| Showers: | 3 |
| Wash Basins: | 3 |
| Heads: | 3 |
| Electric Heads: | 3 |
Pick Up Locations
| | |
| --- | --- |
| Pref. Pick-up: | Nassau, Bahamas |
| Other Pick-up: | Marsh Harbour |
---
Details
| | |
| --- | --- |
| Refit: | - |
| Helipad: | No |
| Jacuzzi: | No |
| A/C: | Full |
Engine Details
-
Fuel Consumption:
-
Cruising Speed:
-
Max Speed:
-
Locations
| | |
| --- | --- |
| Winter Area: | Bahamas |
| Summer Area: | Caribbean Virgin Islands, Bahamas, Caribbean Leewards, Caribbean Windwards |
---
Amenities
| | |
| --- | --- |
| Salon Tv/VCR: | Yes |
| Salon Stereo: | Yes |
| Sat Tv: | - |
| # of Videos: | - |
| # DVDs/Movies: | - |
| # Camcorder: | - |
| Camcorder: | No |
| Books: | - |
| Board Games: | Yes |
| Sun Awning: | Yes |
| Deck Shower: | Yes |
| Bimini: | Yes |
| Water Maker: | Yes |
| | |
| --- | --- |
| Special Diets: | Yes |
| Kosher: | Inq |
| BBQ: | Yes |
| # Dine In: | - |
| Minimum Age: | - |
| Generator: | Yes |
| Inverter: | Yes |
| Voltages: | 110 |
| Water Maker: | Yes |
| Water Cap: | - |
| Ice Maker: | Yes |
| Sailing Instructions: | - |
| Internet Access: | Onboard WIFI |
| | |
| --- | --- |
| Gay Charters: | Yes |
| Nude: | Yes |
| Hairdryers: | Yes |
| # Port Hatches: | - |
| Guests Smokes: | Sugar Scoops Only |
| Crew Smokes: | No |
| Pets Aboard: | No |
| Pet Type: | - |
| Guest Pets: | No |
| Children Ok: | Yes |
| Hammock: | Yes |
| Windscoops: | No |
---
Water Sports
| | |
| --- | --- |
| Dinghy size: | Gala Viking 360 Center Console |
| Dinghy hp: | 40 HP Yamaha |
| Dinghy # pax: | 8 |
| Water Skis Adult: | No |
| Water Skis Kids: | No |
| Jet Skis: | No |
| Wave Runners: | No |
| Kneeboard: | No |
| Windsurfer: | No |
| Snorkel Gear: | Yes |
| Tube: | Yes |
| | |
| --- | --- |
| Scurfer: | No |
| Wake Board: | Yes |
| Kayaks 1 Pax: | Yes |
| Kayaks (2 Pax): | No |
| Floating Mats: | Yes |
| Swim Platform: | Stern |
| Boarding Ladder (Loc/Type): | - |
| Sailing Dinghy: | - |
| Beach Games: | Yes |
| Fishing Gear: | Yes |
| Gear Type: | Trolling, Casting, & Spearfish |
| Rods: | 3 |
Crew Profile
With over 30 years of experience, Pieter is the epitome of what we want in a captain for March Dragon! He is a highly skilled sailor and mechanic with experience in the best and worst of weather conditions. He has an adventurous, kind spirit and speaks English, Dutch, German and French. Our Captain is an avid kite surfer and is PADI scuba certified. Prior to being a private yacht captain, he was sailing and racing around the Northern parts of Europe, the Mediterranean, South Africa, Caribbean waters and has Atlantic crossings under his belt too. When asked what his main goal as a charter captain is, he answered "To ensure guests get from point A to B in a safe way, whilst focusing on an overall fun experience". You are going to have an amazing time traveling with Pieter and he's looking forward to tailoring a vacation plan with unique experiences for everyone on board!

Fun Fact: Pieter worked for Tesla in Europe and Australia for six years.

Born and raised in Cape Town, South Africa Janey's free spirited personality encouraged her to join the yachting industry as a Chef in 2018 and she instantly fell in love with it. Having previously worked in the hospitality and service industry in Cape Town at various events and restaurants, she quickly adapted to the yachting world. Coming from an extremely creative background studying fashion design, makeup artistry, and interior decorating, the art of plating beautiful delicious food fast became an love and true passion for her. Apart from chefing, Janey enjoys spending her time doing outdoor activities such as hiking, running, doing arts and crafts, and working on her travel photography. Her love for animals and her family gives her an extremely loving, caring and kind personality.
Calendar
(15 December -30 April)
Bahamas
(1 May - 14 December)
Caribbean Virgin Islands, Bahamas, Caribbean Leewards, Caribbean Windwards
| | | | | | | | | | | | | | | | | | | | | | | | | | | | | | | | |
| --- | --- | --- | --- | --- | --- | --- | --- | --- | --- | --- | --- | --- | --- | --- | --- | --- | --- | --- | --- | --- | --- | --- | --- | --- | --- | --- | --- | --- | --- | --- | --- |
| May 2021 | 1 | 2 | 3 | 4 | 5 | 6 | 7 | 8 | 9 | 10 | 11 | 12 | 13 | 14 | 15 | 16 | 17 | 18 | 19 | 20 | 21 | 22 | 23 | 24 | 25 | 26 | 27 | 28 | 29 | 30 | 31 |
| Jun 2021 | 1 | 2 | 3 | 4 | 5 | 6 | 7 | 8 | 9 | 10 | 11 | 12 | 13 | 14 | 15 | 16 | 17 | 18 | 19 | 20 | 21 | 22 | 23 | 24 | 25 | 26 | 27 | 28 | 29 | 30 | |
| Jul 2021 | 1 | 2 | 3 | 4 | 5 | 6 | 7 | 8 | 9 | 10 | 11 | 12 | 13 | 14 | 15 | 16 | 17 | 18 | 19 | 20 | 21 | 22 | 23 | 24 | 25 | 26 | 27 | 28 | 29 | 30 | 31 |
| Aug 2021 | 1 | 2 | 3 | 4 | 5 | 6 | 7 | 8 | 9 | 10 | 11 | 12 | 13 | 14 | 15 | 16 | 17 | 18 | 19 | 20 | 21 | 22 | 23 | 24 | 25 | 26 | 27 | 28 | 29 | 30 | 31 |
| Sep 2021 | 1 | 2 | 3 | 4 | 5 | 6 | 7 | 8 | 9 | 10 | 11 | 12 | 13 | 14 | 15 | 16 | 17 | 18 | 19 | 20 | 21 | 22 | 23 | 24 | 25 | 26 | 27 | 28 | 29 | 30 | |
| Oct 2021 | 1 | 2 | 3 | 4 | 5 | 6 | 7 | 8 | 9 | 10 | 11 | 12 | 13 | 14 | 15 | 16 | 17 | 18 | 19 | 20 | 21 | 22 | 23 | 24 | 25 | 26 | 27 | 28 | 29 | 30 | 31 |
| Nov 2021 | 1 | 2 | 3 | 4 | 5 | 6 | 7 | 8 | 9 | 10 | 11 | 12 | 13 | 14 | 15 | 16 | 17 | 18 | 19 | 20 | 21 | 22 | 23 | 24 | 25 | 26 | 27 | 28 | 29 | 30 | |
| Dec 2021 | 1 | 2 | 3 | 4 | 5 | 6 | 7 | 8 | 9 | 10 | 11 | 12 | 13 | 14 | 15 | 16 | 17 | 18 | 19 | 20 | 21 | 22 | 23 | 24 | 25 | 26 | 27 | 28 | 29 | 30 | 31 |
| Jan 2022 | 1 | 2 | 3 | 4 | 5 | 6 | 7 | 8 | 9 | 10 | 11 | 12 | 13 | 14 | 15 | 16 | 17 | 18 | 19 | 20 | 21 | 22 | 23 | 24 | 25 | 26 | 27 | 28 | 29 | 30 | 31 |
| Feb 2022 | 1 | 2 | 3 | 4 | 5 | 6 | 7 | 8 | 9 | 10 | 11 | 12 | 13 | 14 | 15 | 16 | 17 | 18 | 19 | 20 | 21 | 22 | 23 | 24 | 25 | 26 | 27 | 28 | | | |
| Mar 2022 | 1 | 2 | 3 | 4 | 5 | 6 | 7 | 8 | 9 | 10 | 11 | 12 | 13 | 14 | 15 | 16 | 17 | 18 | 19 | 20 | 21 | 22 | 23 | 24 | 25 | 26 | 27 | 28 | 29 | 30 | 31 |
| Apr 2022 | 1 | 2 | 3 | 4 | 5 | 6 | 7 | 8 | 9 | 10 | 11 | 12 | 13 | 14 | 15 | 16 | 17 | 18 | 19 | 20 | 21 | 22 | 23 | 24 | 25 | 26 | 27 | 28 | 29 | 30 | |